Is your home ready to welcome the Year of Ox? While we're busy cleaning and prepping for the new year, we should also be aware of our furry friends' safety. Many popular treats enjoyed during Chinese New Year and decorative flowers can be harmful for pets if ingested. Read on to find out how to keep your furry one safe during the festivities.  
Foods to Avoid
1. Traditional Treats
We love indulging in traditional Chinese New Year treats such as sweet rice cake and radish cakes. But for our pets, the foods' high fat content may cause diarrhea, vomiting, and other digestive discomfort; in more serious cases, they can even result in pancreatitis. It's best to keep these treats out of your pet's reach and to remind guests not to feed any to your furry one either.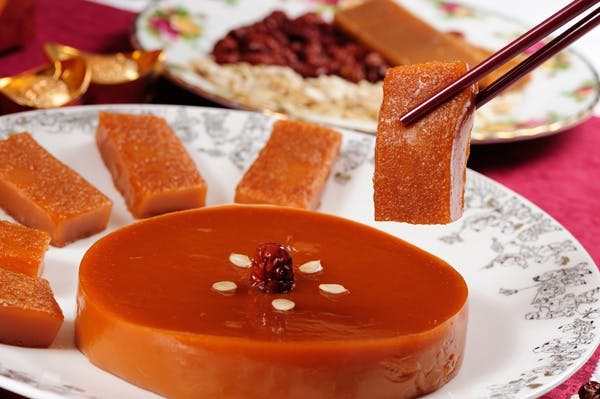 2. Xylitol
Xylitol is a very common sugar substitute, found in chewing gum, candies, and other low or sugar-free products. However, for dogs, this sweetener is poisonous. A dog's pancreas will confused xylitol with real sugar, causing a release of insulin, and and subsequently a drop in blood sugar levels. It can cause weakness, disorientation, seizures, liver damage, or it can even be fatal for dogs. Therefore, it's very important to check whether treats you have at home contain any xylitol.
3. Grapes or Raisins
Grapes or raisins can cause vomiting, diarrhea, lethargy, or abdominal pain for dogs. For more serious cases, ingesting this fruit can cause kidney failure.
4. Chocolate
Most people may already know this: Chocolate is very dangerous for dogs. But it's worth repeating ahead of Chinese New Year, as chocolates are common holiday gifts. It's hard to resist the temptation of chocolate as humans, but for dogs, ingesting even a little bit can be fatal. Take extra precautions to keep chocolate treats away from your furry one and ask your guests to do the same.
Plants to Avoid
These common festive blooms are toxic for our pups and kitties:
There are many other common houseplants that are toxic for pets, including dieffenbachia, lilies, and rhododendrons. Read more about them in this post: Decorating your home with plants? Make sure they're safe for your pets.
Safety Tips When Out and About
Many pet parents will probably want to take advantage of the four-day holiday and take their furry ones for a fun day out. If you're planning a hike, don't forget to take prevention measures against fleas and ticks! Also, keep in mind that the country parks belong to everyone. Read our post about hiking with your pet for things to pay attention to as a responsible pet owner.
New Year, Fresh Look
Thinking about taking your pet for one last groom before the new year? If you're looking for a grooming service, we can recommend Posh Paws Resort in Yuen Long. It offers variety of services including a pet hotel and a swimming pool for dogs. Pet grooming starts from HKD 220. Visit their website for more details.
Just in Case
Finally, in case of any unexpected accidents or illnesses over the holiday, the following clinics offer 24-hour service:
The clinics above belong toOneDegree'svet network.PawfectCare policyholders visiting network clinics can get 90% of expenses reimbursed. See here for a complete list of our network clinics.