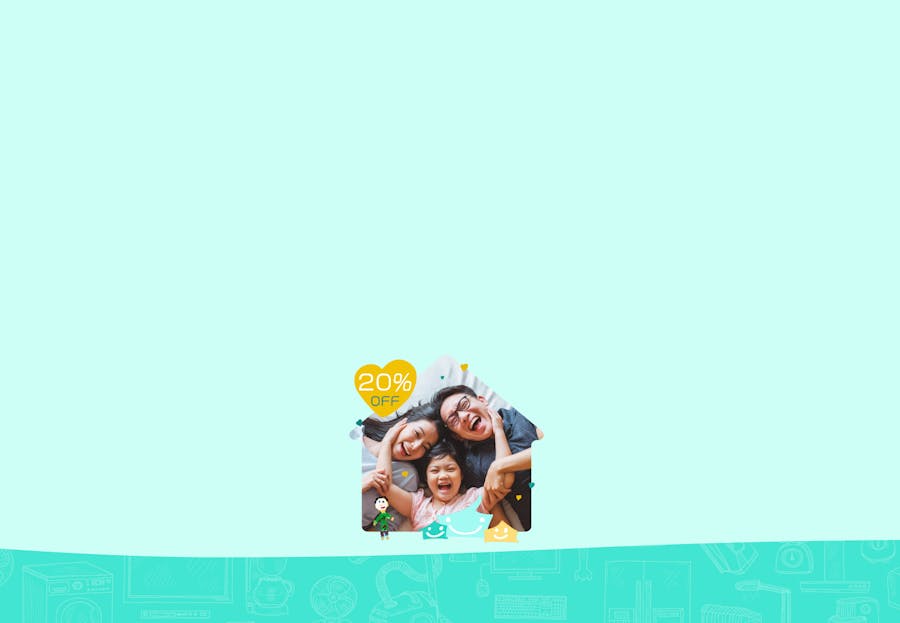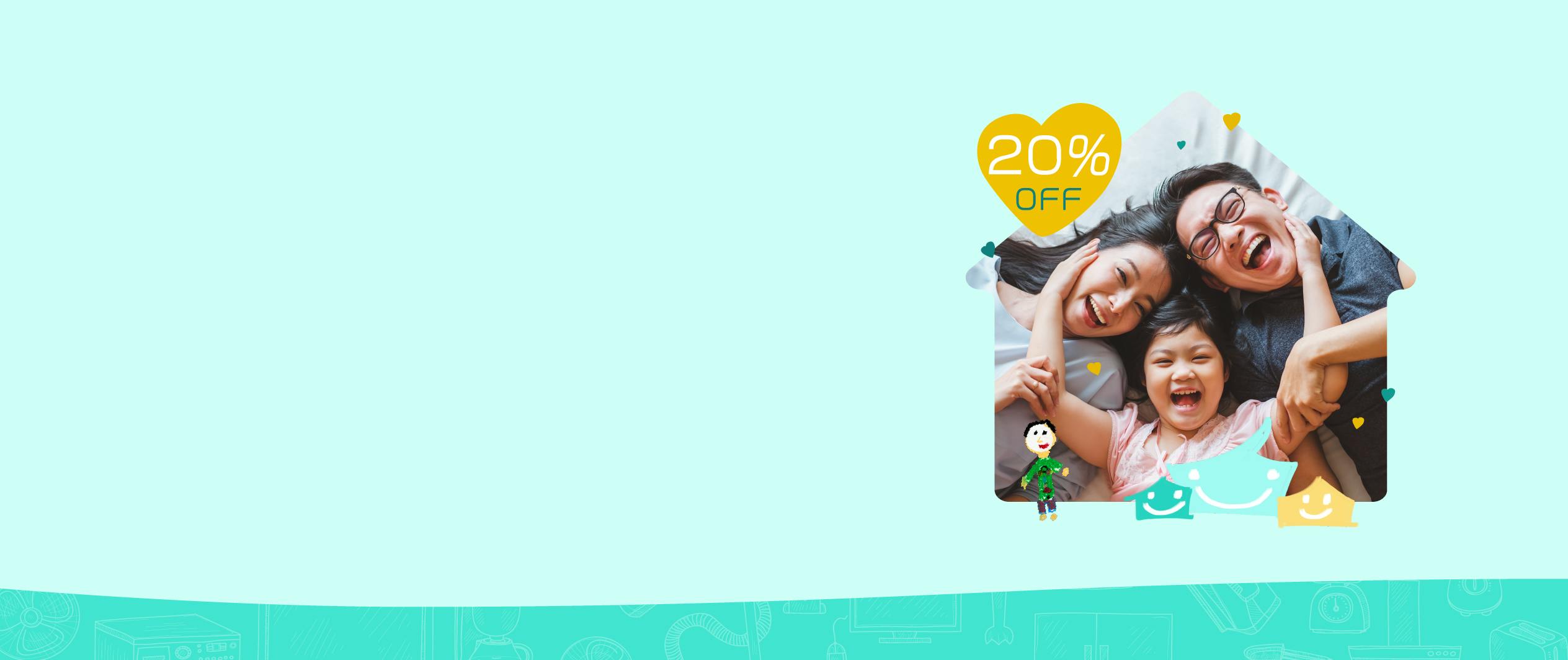 Home Insurance for Super Parents
Make your abode a loving home for your kids with a comprehensive cover featuring the town's widest-range home appliances warranty and a third-party liability cover of up to HK$15 million. Enroll on or before 30 September 2023 to enjoy 20% off your first year's premium!
Product Features
Product Features
Product Features
Premium less than HKD100, with up to HKD 15 million coverage
OneDegree Home Insurance covers residential properties of all types, including village houses and detached houses. With an average monthly premium less than HKD 100
*
, you can enjoy up to HKD 15 million in third-party liability coverage, enabling you to enjoy greater protection with a limited premium
Best Home Appliances Warranty in town covering 14 major appliances
We understand how costly a repair or replacement of home appliances can be, so we are here to share your financial burden. OneDegree Home Insurance offers the best Home Appliances Warranty in town covering repair costs of 14 major appliances including vacuum cleaners, air purifiers and water filtration systems!
**
.
Equal benefits for same-sex and opposite-sex marriage and domestic partnership
At OneDegree we care about equality and we are here to provide everyone with equal protection for their homes. Our Home Insurance provides the same benefit coverage for all, from opposite-sex couples to same-sex partners – and it doesn't matter if you are married or living together
#
.
Loss and damage to home possessions during renovation covered
We understand homes under renovations are more susceptible to accidents. That's why OneDegree's Home Insurance covers unexpected losses and damages to home possessions caused by your contractor during renovation in your place.
Pets Owner Third-party Liabilities Protection
Protecting furkids is at the heart of OneDegree. We always try our best to look out for your furry buddies. Our third-party liability coverage for pets will gives you peace of mind as we cover you for any accidental damage caused by your pets to third-party property or person.
Loss and third-party liability due to accidental pipe burst covered
We cover accidental losses and damages to home contents caused by a burst pipe, including the costs to repair or replace furniture, home appliances and personal possessions due to water damage. Our coverage also includes third-party liability cover up to HK$15 million, allowing you to have financial security without dipping into your finance for the unfortunate accident.
Secure and smooth enrollment and claims experience
Request an online quotation any time, OneDegree's Home Insurance policy will be effective immediately. It is completely paperlesss from application to claim, and claims are guaranteed to be completed within 5 working days after submission, provided that all necessary documents have been provided to us
##
. We will inform you of the progress of your claim by email and keep the claim process transparent.
For more details about remarks, please refer to
notes
Highlighted Benefits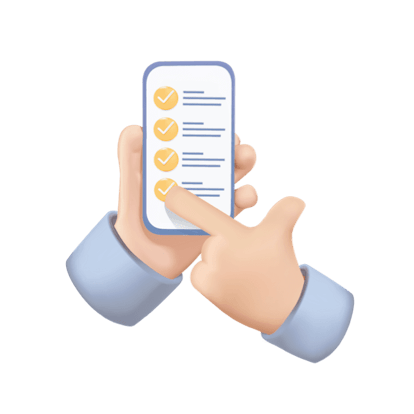 File your claim online with a completely paperless process. Please download the claim forms from the below links, and email the form, along with the required documents stated on the form, to us at claims@onedegree.hk.
Household property damages claim form: Download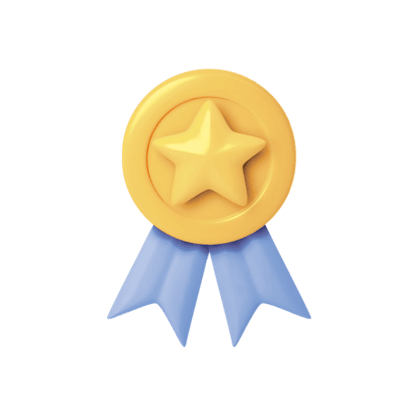 5-day Claim Service Guarantee
We guarantee to precess a claim within 5 working days upon receipt of all necessary application documents##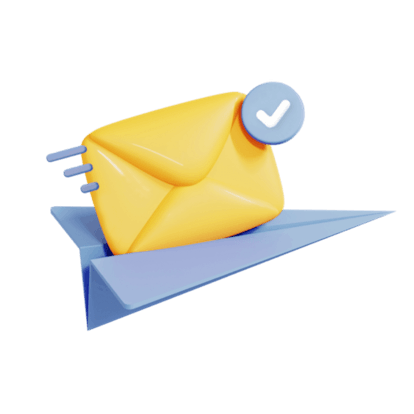 Instant Claim Status Notification
Timely email updates on claim status allow you to know exactly where you are at throughout the process
What's Not Covered
The following is a summary of the exclusion, please refer to the policy for details
Uninsurable risk such as scratching, corrosion, wear and tear;
Items which are insured under a separate policy;

Malicious damage or vandalism by a person residing in the insured premises;

Contact lenses, mobile/portable phone, laptop, computer;
The insured premises unoccupied for more than 30 days
FAQ
Note
*
Assuming that a unit with a saleable area of ​​less than 400 square feet is insured with a Prestige Plan and does not include any customized benefits, the annual premium for the first year after the 30% discount is HKD 1,032, and the average monthly premium is HKD 86.
#
Someone with whom You live in a relationship equivalent to marriage, whether of the same or opposite gender. Your Partner should have lived with You in the same home for at least 12 months.
**
Only TVs (excluding screens), air conditioners, refrigerators, washing machines, dryers, washer dryer combos, cooker hoods, stoves, ovens, dehumidifiers, air purifiers, water heaters, vacuum cleaners and water purifiers that have been purchased in Hong Kong for no longer than 60 months with a value between HKD3,000 and HKD30,000 are covered, subject to a receipt proof. The maximum claim is limited at HKD40,000 or the repair cost as on the reimbursement invoice of the concerned appliance (whichever is lower), excluding transportation and delivery costs. Applicable to Prestige Plan only.
##
Only applicable to claims below HKD 2,000.
Terms and Conditions
1.
This promotion is valid from now until 30 September 2023 ("Promotion Period").
2.
OneDegree's system will automatically apply the 20% premium discount on Home Insurance ("Offer") to applicable plans and payment mode and display it on the website.
3.
The discounted premium will be rounded to the nearest whole number during quotation for display purposes. The actual premium payable will be shown at checkout and shall be the final amount. 
4.
The Offer is only applicable to premium for the first year of a policy. 
5.
For details of coverage, terms, conditions, and exclusions of Home Insurance, please refer to the policy wordings.
6.
OneDegree may terminate this promotion without notice. All matters or disputes in relation to the promotion and the interpretation of terms and conditions shall be subject to the decision of OneDegree, which shall be final and binding. 
7.
In case of any discrepancy between the English and Chinese versions, the English version shall prevail.
© 2023 OneDegree Hong Kong Limited. All rights reserved.