Enroll with promo code "FIREOCT", get up to HKD 500 Apple Store e-Gift Cards.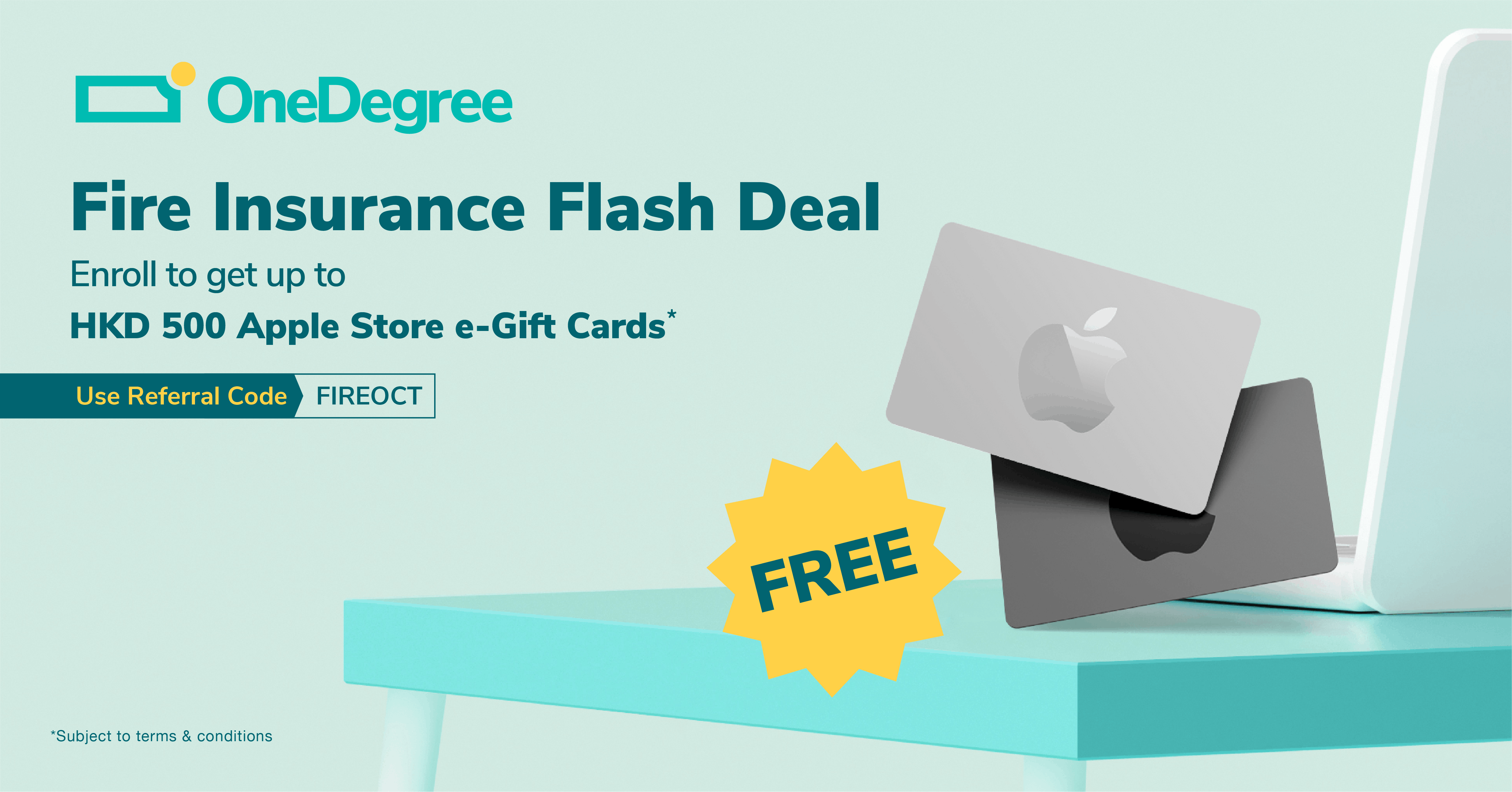 Terms and conditions:
1.     This promotion is valid from 4 to 31 October 2021 ("Promotion Period"). 
2.     Customers must complete the fire insurance policy purchase on the OneDegree website www.onedegree.hk and enter "FIREOCT" as the referral code. Customers whose policy is still effective as of 31 January 2022, will get one of the below rewards ("Reward").

3.     Only one referral code may be used per policy purchase. The referral code will be deemed invalid if more than one referral code is input on the checkout page.
4.     The Reward is only available to customers purchasing OneDegree fire insurance for the first time.
5.     A customer who successfully purchases a policy using the referral code during the Promotion Period, and provided that the policy is still effective by the time to collect the Reward, ("Eligible Reward Recipient") will receive an email about the collection arrangement of the Reward in the week of 31 January 2022 via the email address provided during policy purchase. Customers should ensure that their email address provided during policy purchase is accurate. OneDegree is not responsible for any delivery failure due to errors or missing information in the email address provided. Actual reward collection date may vary as it is subject to stock availability. 
6.     If the policyholder cancels the fire insurance policy during the policy term, OneDegree reserves the right to deduct the value of Reward from any premium refund.
7.     The Reward cannot be transferred, returned, exchanged for cash, or exchanged for other products or services under any circumstances.
8.     The Reward is subject to the terms and conditions imposed by the supplier. In case of any enquiry or dispute in relation to the Reward, customers should deal with the supplier directly.
9.     For details of coverage, terms, conditions, and exclusions of OneDegree fire insurance, please refer to the policy wording.
10.  All matters or disputes in relation to this promotion and the interpretation of these terms and conditions shall be subject to the decision of OneDegree, which shall be final and binding.
11.  In case of any discrepancy between the English and Chinese versions of these terms and conditions, the English version shall prevail.